With over 3.1 million confirmed cases of COVID-19 and 200k deaths worldwide, the need for rigorous testing and contact tracing increases.
In light of recent findings on the shedding of SARS-CoV-2 (the virus causing COVID-19) during the asymptomatic stage, the possibility for viral transmission from asymptomatic and presymptomatic carriers to others is concerning.
With many nations beginning to ease lockdown measures, many are wary of second waves of COVID-19 infections.
Part of the solution may be broad random testing. Scale-up of COVID-19 testing allows health officials to act quickly and contain the situation by treating the patient, perform contact tracing, and prevent further spread.
From a global public health standpoint, widespread testing also improves our understandings of the epidemiology of the disease. However, that is easier said than done.
One of the key issues since the beginning of the pandemic has been the laboratory testing for SARS-CoV-2. While scientists had quickly deciphered the viral sequence followed by the development of specific molecular testing, the process to produce a result is slow.
Many countries were caught unprepared for the blitz of COVID-19 and faced delayed diagnosis and struggled with patients' isolations and tracking. Centralized laboratories are battling with the overwhelming workload and shortage of reagents and test kits.
Recently, governments and regulatory agencies are granting exemptions for a number of new rapid point-of-care (POC) testing kits. Diagnostic tech companies are rolling out these new kits as quickly as they can. The selling point is that these tests can produce results much quicker and are much simpler to operate.
Before we talk about how different COVID-19 tests work, what is POC testing? And why we need it? How does it differ from laboratory testing?
Point of Care testing vs Laboratory testing
POC testing is a form of testing that can be done in a healthcare setting close to or near the patient. Some can even be performed off-site.
They are typically portable and easy-to-operate kits or devices capable of returning results quickly. For example, urine test strips, pregnancy tests, blood glucose meter are routinely used POC tests. 
Laboratory testing on the other hand often has a lot of steps including the transport of specimens to the lab, various lab techniques and requires trained personnel. On the spot POC testing short circuits these steps.
POC testing can be very helpful in an emergency. For example, a healthcare professional needs to perform prothrombin time/international normalized ratio (PT/INR) to test blood coagulation before treating a stroke patient. An extensive laboratory testing would not produce the result quickly enough in an emergency.
Even so, POC testing is not error-proof. Some POC tests are less sensitive and when handled incorrectly might cause more harm than good. POC tests also typically deliver a limited range of results compared to laboratory testing. Although the process might be slower, laboratory testing generally produces more precise and accurate results.
Nevertheless, amidst the shortage of COVID-19 PCR test kits and lab technicians, rapid POC tests may accelerate diagnosis and clinical decision-making while waiting for lab test results. This may ease some burden on the over-worked laboratory workers.
Overall, POC tests are still valuable tools for first responders and can complement laboratory testing.
How does RT-PCR COVID-19 lab testing works?
RT-PCR (Real-time reverse transcription-polymerase chain reaction) is a laboratory technique consist of the reverse transcription of specific RNA sequences into complementary DNA (cDNA) and the amplification of this cDNA using PCR.
This technique allows the quantification of target RNA in the form of cDNA by using a fluorescence probe. During the amplification step, fluorescent signals generated are detected and measured.
This technique is used to quantify the viral RNA of SARS-CoV-2. Not all tests are the same. Different institutes and laboratories detect different gene targets of SARS-CoV-2. For example, testing in France and Germany look for the RdRP gene of the virus.
Some laboratories also perform multiplex PCR, which is the simultaneous detection of multiple gene targets in a single analysis. Regardless, the presence of any of the targets indicates the presence of the SARS-CoV-2 virus.
RT-PCR is highly sensitive and accurate most of the time. But the process is not quick enough in producing results. Before testing, trained and qualified lab techs need to extract RNA from patient samples (nasopharyngeal and/or oropharyngeal swabs) before the actual RT-PCR reactions.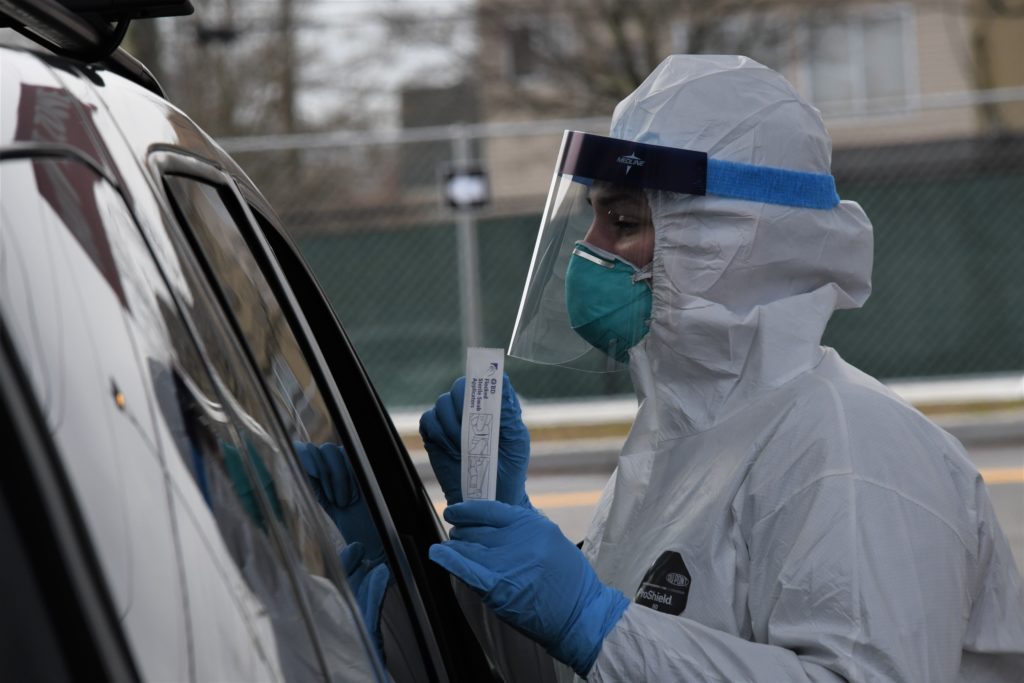 Besides, there are limitations to the amount of equipment that can be used for testing. When dealing with a global pandemic with thousands of test requests, the laboratories become quickly overwhelmed.
Another major issue lies with the sample quality. Lack of viral RNA in the patients' samples may produce false-negative results. Not only does viral RNA load vary between patients, but it can also vary within the same patient depending on the stages of infection and timing of the test. Besides, the sampling technique can affect the test results too.
Healthcare workers have to be trained and ensure adequate rubbing and rolling motion to collect enough materials. Otherwise, false-negative results may delay diagnosis and jeopardize treatment. If a person is still contagious after a false-negative result, he/she may unknowingly spread the virus. The effects can be devastating in the community.
Serology testing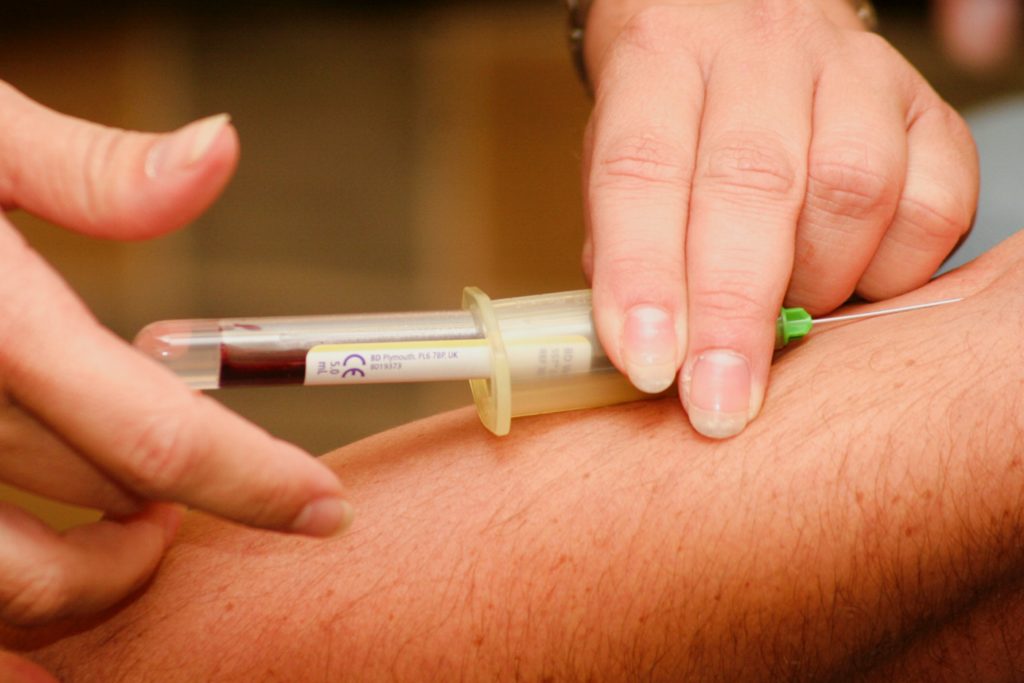 Serology tests do not measure the presence of the virus. Instead, they look at the presence of specific antibodies your body produced in response to SARS-CoV-2 infection.
Serology tests are commonly used in healthcare settings. They are routinely performed (in the form of laboratory blood tests or rapid POC tests) to assess a person's immunity against different diseases such as Hepatitis B and HIV.
When your body is infected with the virus, your immune system will respond by producing antibodies, which target the virus particles. These antibodies are very specific targeting the antigens (pieces of viral proteins) of the viruses. Antibodies bind to the viruses and signal for their destructions.
For most rapid POC serology tests, they look at two types of antibodies. The first type is IgM. Your body produces IgM during the initial stage of the infection. Over time, the level of IgM recedes. The second type of antibody is IgG. IgG antibodies usually circulate in the bloodstream for a longer time.
Their presence usually indicates immunity against a certain disease and that someone has been infected previously. However, IgG is not produced until much later in the course of infection as it takes time for the body to recognize viral antigens and form specific IgG.
Currently, serology tests for COVID-19 are being rushed into development. Many companies have released rapid serological test kits that are easy-to-use and produce results within 15 to 30 minutes.
Rapid test kits typically contain cassettes pre-loaded with SARS-CoV-2 antigens. When a sample (i.e. whole blood or blood serum) is added, if present, IgG and IgM antibodies will bind to the antigens. Similar to a home HIV test, the formation of colored bands on the cassettes indicates positive results.
Other serology test kits utilize a chemiluminescence immunoassay system or ELISA assays. These kits vary in their antigen specificity, sensitivity, and accuracy of the results. But the goal is the same, that is to deliver results quicker.
The main limitation of serological testing is that these antibodies take approximately 7 days or more to become detectable. An antibody test cannot detect active viral shedding as it doesn't reveal any information on the presence of viruses.
This means that they might not be useful for the diagnosis of acute infection. However, they can be used for monitoring infection and detecting past infection.
Besides, long-term monitoring with serology testing would be useful for epidemiological studies and reveal information on community immunity.
Because these tests negate the need for specimen transport, employing skilled lab techs and testing in laboratory settings, the cost would be considerably lower as well.
Combination is the way to go
Both RT-PCR and rapid serology testing have their own flaws and advantages. It is extremely difficult to definitively say which test is better since we still don't know a lot about this disease. We are only beginning to understand the viral shedding patterns of patients infected with COVID-19.
While there are preliminary studies on the detection of antibodies against SARS—CoV-2 in a small population of patients. We still lack large scale studies.
We don't know whether patients develop long term immunity post-infection. What are the chances of re-infection? What does that say about long term immunity? Do milder or asymptomatic cases develop antibodies? Does the presence of antibodies mean protection from the disease? Without data from large-scale epidemiological studies, it is still too early to talk about giving out "immunity passports". 
Overall, RT-PCR is still the main testing method. Given that the test directly detects the presence of the SARS-CoV-2 virus, it is more suitable for detecting the contagious acute phase of the infection as well as asymptomatic cases. Meanwhile, serology testing is useful during the chronic phase of the infection.
Very often, it is difficult to establish the exact time of infection. Therefore, it is risky to rely solely on either testing methods in the long run. A combination of RT-PCR and a series of serology testing is a better approach to prevent misdiagnosis and manage community transmission.
The main takeaway is that the results from RT-PCR and serology testing may not always agree given the variability in stages of infection and viral shedding.
New Technologies
RT-PCR remains the gold standard for testing the presence of viral materials. It is a well-established technique. Typically, a reaction takes only a few hours to complete. But the transport of samples to the central labs and sample preparation takes time.
However, in recent years, advances in diagnostic and automation technologies have pushed the traditional boundaries of molecular testing.
Rapid POC Molecular testing
Companies are now rolling out rapid POC molecular diagnostic kits. These kits use the same principles as RT-PCR. They are usually instrument-based and the processes are entirely automated. The analyzers and instruments for POC testing are usually portable and can be used at the clinics or community-screening settings.
In this regard, the FDA recently granted emergency use authorization (EUA) for an automated molecular test for the qualitative detective of SARS-CoV-2 by Cepheid. Cepheid claimed that its Xpert Xpress SARS-CoV-2 test can provide rapid detection of the virus in approximately 45 minutes.
The test leverages the company's existing cartridge technology commonly used for detecting various viruses and bacteria. The principle is the same as RT-PCR. Instead of a qualified lab tech performing the test, the test cartridge has all the necessary solutions and compartments for the machine (GeneXpert Systems) to carry out the RT-PCR.
Because it requires minimal handling, it can be performed by healthcare workers near the patients. Rather than sending the swabs to centralized labs, healthcare workers can simply load the swab samples into a cartridge and let the analyzer do the rest of the work.
PCR Isothermal test
FDA also granted EUA for Abbott's ID NOW COVID-19 tests. Abbott's rapid POC PCR testing utilizes isothermal amplification technology. The major advantage of this method over traditional RT-PCR is that the process is much quicker.
This test is capable of delivering a positive result in 5 minutes and a negative result in 13 minutes. The amplification of DNA with an isothermal approach is more robust and can be performed directly using crude samples. Similar to Cepheid's GeneXpert module, the ID NOW analyzer is easy to use and automated.
CRISPR-Cas technology for COVID-19 testing
Besides advancements in PCR POC testing, companies are now aiming to develop new rapid SARS-CoV-2 tests using the much-lauded gene-editing CRISPR-Cas technology.
Recently, Sherlock Biosciences and Cepheid companies are working together to develop CRISPR-based tests, which will run on Cepheid's GeneXpert automated systems.

Scientists at the Mammoth Biosciences, the University of California, San Francisco, and the California Department of Public Health are also collaborating to develop a lateral flow assay, SARS-CoV-2 DETECTR. The assay can deliver results in 30 to 45 minutes. The assay leverages the use of CRISPR-Cas technology and isothermal amplification technique.
All the CRISPR-based tests are still at the proof of concept or validation stage.
Similarly, while the development of POC testing is exciting, most of the tests still require further validations. Typically, before a diagnostic test is approved for clinical use, rigorous testing must be done.
A high-quality test should achieve 99% or more sensitivity and specificity. Most of the tests developed for COVID-19 only achieve up to 95% accuracy. WHO does not recommend using antibody POC tests for diagnosis and but for research use only.
Are these tests reliable enough? Can we afford testing delays? What about the effects of false positive or false negative results? These are the questions world leaders and authorities have to consider. Ironing out all these issues will once again take time and involves plenty of trial and error.
Nonetheless, the pandemic has pushed the world into uncharted territories. For many tech companies, the outbreak is an opportunity to push for automation technologies.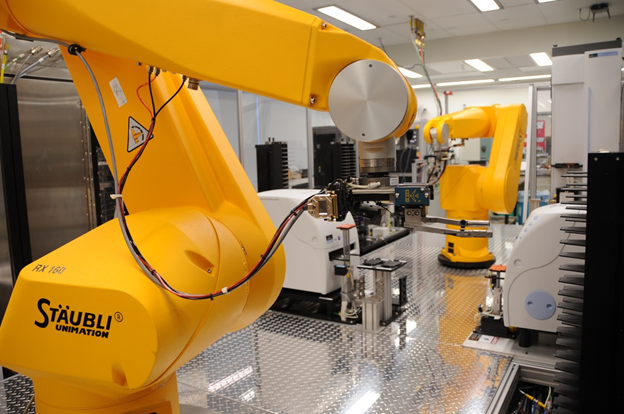 From AI technology in diagnosing people to automated robotic solutions for diagnostic testing, a new era of automation is imminent.
You can find the lists of approved CVODI-19 tests here: U.S., Australia, EU.
Resources:
Mammoth Biosciences
Sherlock Biosciences
Abbott Laboratories
Nature Biotechnology news